How to Measure the Size of your Glasses Frames
Posted on January 10 2022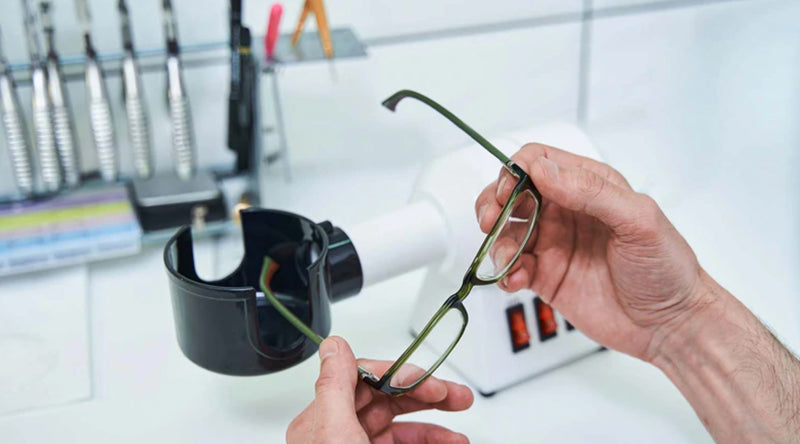 Finding the perfect fit for a pair of eyeglass frames from an online store really isn't a difficult task. In fact, it's simple as long as you have the right eyeglass measurements. 
Use this handy guide to find out how to measure the size of your glasses frames so that you can pick out the eyewear that fits you perfectly!
How do I measure my glasses frame size?
It's true that you don't have the chance to actually try on a pair of glasses when shopping online, but you'll likely have the next best thing: a pair of old eyeglasses that you can use for comparison. If they fit well, copy down the measurements (see below); if they could use some adjustment, think about which specifications need to change for a better fit.
Another way to determine your ideal frame size is to take the measurements yourself. In much the same way as taking measurements for clothing, measure your face to determine what size of frame you need.
While standing in front of a mirror, use a ruler to determine your ideal specifications for these important frame measurements:
Frame width

: The furthest two points across the horizontal width of the frame including the parts that stick out. 

Lens height

: The vertical height of a lens at its tallest point; needs to exceed 30mm for bifocal/progressive prescriptions.

Lens width

: The horizontal width of the lenses at its widest point. Also known as "eye size," lens width comes in three sizes (small: 50mm or less, medium: 51-54mm, and large: 55mm+).

Bridge size/Bridge width

: The part of the glasses that goes across the bridge of the nose, representing the distance between lenses; measured horizontally from the inner edge of one lens to the other.

Temple length

: The distance from the tip of the arms (after the bend in the ear) to the hinge of the glasses; because of the bend, it may be easier to do this measurement in two parts.
Some important things to keep in mind for each of these measurements:
A good rule of thumb to use for frame width is to

find a frame that is slightly wider than your face

. Ideally, there should be no more than a finger's width of room between your temple and the frames.

Be picky with your selection

. Choose too narrow a frame, and it will make your face look wider; choose too wide, and it will make your face look narrow. 

Ideally,

each of your eyes should be in the centre of each lens

; if your frames are too wide, your eyes will appear too close together, while narrow frames will give your eyes a wide-set look.
Where can I find the measurements on a pair of glasses?
Like other accessories or pieces of clothing, eyewear frames have different sizes. In the same way, the measurements to a piece of eyewear can be found printed as a code on the frames, usually either on the arms, or on the bridge of the glasses.
Frames for eyeglasses have three listed measurements, all of which are measured in millimetres (mm):
Lens width: Usually 40-60mm

Bridge width: Usually 14-24mm

Temple (arm) length: Usually 120-150mm
This seven-digit measurement code can be understood this way:
First pair of digits (digits #1 and #2): Lens width 

Second pair of digits (digits #3 and #4): Bridge width 

Last three digits (digits #5, #6, and #7): Temple length (arm length)
Ultimately, choosing a pair of eyeglasses is a personal choice, but you don't have to do it alone. Ocuwear offers free consultations to customers located in the GTA. Schedule an appointment with our Vaughan-based sister brand Temkin Opticians to speak to one of our trained staff members.
If you don't feel confident in your ability to choose eyewear, we can show you how! Learn how to find frames that cater to specific needs by reading our free e-book, How to Choose the Right Glasses for Your Face Shape, downloadable here.
If you're still unsure about picking your own frames, why not let us choose for you? Take our Fit Recommendation Quiz, and receive a personalized list of recommendations based on answers you provide.