How to Choose the Right Prescription Eyeglasses for Your Face Shape
Dmitry Posted on June 21 2023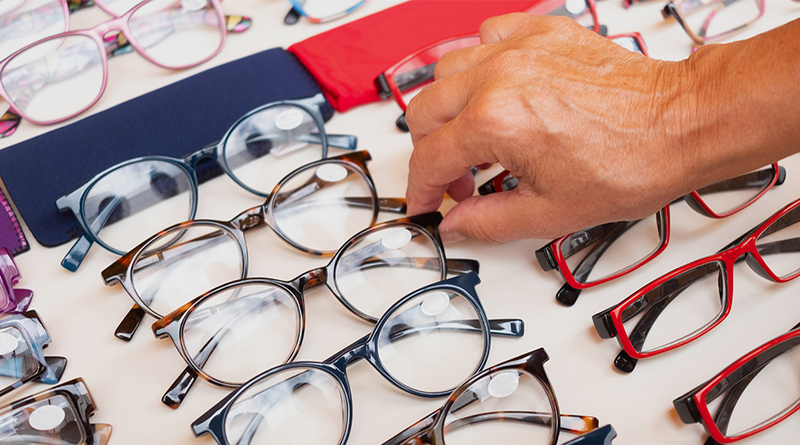 So, you're eager to choose a brand new pair of luxurious designer eyeglass frames to suit your particular taste and style, but you're unsure how they'll look on your face. Don't fret, it's a problem many of us have. After all, face shapes affect how different styles of frames look, and if you choose the wrong ones, you may not achieve the most flattering result. 
The good news is that there's plenty of options to suit every kind of facial type, which means you should have little trouble finding the perfect pair. All you might require is a bit of help when it comes to understanding facial shapes, as well as the correct method of choosing eyeglasses to suit them. Read along, as we're about to dive into a topic you may never have considered, yet we're sure you'll find enlightening and informative.
THE OVAL FACE SHAPE
The key advantage of having an oval-shaped face is versatility. There's a nuance and balance that goes a long way when choosing the right pair of eyeglasses. However, you'll want to be sure that you're measuring that balance and sticking to the correct style of frames. If you have an oval face shape, we recommend choosing frames that are as wide as your face, or slightly more so, in order to balance out your look.
The same principle applies vertically, as well. Avoid round frames in favor of narrow ones, as they will work in conjunction with your overall face shape to create a geometrically balanced and fashionable look. You can still get away with certain larger frame styles such as browline and aviator, but we recommend focusing on square and rectangle shapes, while avoiding oversized ones. 
THE HEART-SHAPED FACE
The aptly-named "heart-shaped face" describes one that is wide at the top and middle before tapering off at the chin. This creates a geometric triangle whereby certain eyeglass frames can benefit. Rectangle and round frames are both suitable if you possess this kind of face. The former can add balance to your look, while the latter can soften your face and provide a more elegant appearance.
Conversely, we recommend steering away from square, browline and oval shapes, as they can draw too much attention to the inherent imbalance. At all times, you'll want to choose frames that compliment the natural taper of your face, and bring out its unique beauty.
THE ROUND FACE
Many people have rounder faces, which tend to translate into softer expressions. While women may appreciate this most of all, men may wish to chisel their look a tad with the right frames. Thankfully, both men and women with round faces can benefit from sticking to rectangle or square styles which provide a natural counterbalance to their looks. Women may also opt for round frames for a prettier look, while men can always rely on their trusty aviators, especially for prescription sunglasses. If you have a round face, we recommend avoiding oval, circular or browline glasses which do not take advantage of your natural contours.
THE SQUARE FACE
Men and women with square faces will want to choose different styles of eyeglass frames to enhance their natural look. Men may opt for browline, oval or rectangle frames in order to create structure and balance, while women would do well to choose browline, round, or even cat-eye frames to create a sense of softness without any hard edges. 
Likewise, women may wish to avoid rectangle lenses for the exact same reason - to avoid too much rigidity. Similarly, round glasses may not suit men due to a clashing contrast with their facial structure. 
THE DIAMOND FACE
The diamond face accentuates height over width, which can affect everything from cheekbone structure to browlines. Balance is key here, and both men and women can benefit from sticking to oval or round frames, which help bring balance to their overall look.
Women can also pull off cat-eye frames with stunning ease on a diamond face, while men might enjoy the look of browline frames. These choices help offset the longer vertical structure of the face, while creating a nice appearance in the process. Both men and women may wish to avoid rectangle and square lenses, however, as their shapes prohibit them from providing any balance. 
THE PEAR-SHAPED FACE
Pear-shaped faces tend to create an illusion of a narrower forehead in comparison to the rest of the face, and are usually accentuated with bountiful hairlines. The trick is to counterbalance the forehead with frames that create an illusion of fullness, such as browline, oval or aviator frames. 
These bring a greater sense of weight to the upper portion of the face, and can look quite stylish at the same time. Both men and women should avoid square or rectangle frames, as they lack the vertical fullness required to achieve that particular look. 
THE OCUWEAR TOUCH
So, you've been armed with the knowledge necessary to make excellent choices that will fit your facial shape. However, you may still feel uncertain, but not to worry! Shopping with Ocuwear means being able to try on glasses using our Virtual Mirror plugin, without having to leave the comfort of your own home! Simply upload a photo of your face, and you can browse through our entire selection of quality designer eyeglasses and sunglasses to find the one you love the most. Remember, at the end of the day, you need to be happy with your own look.