Everything You Need To Know About Sunglasses And UV Ratings
Dmitry Posted on August 23 2022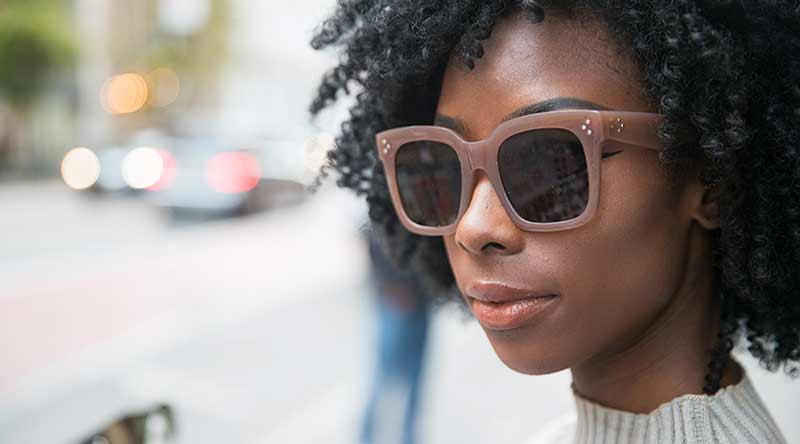 Taking care of your eyes is no laughing matter, and preventing unnecessary exposure to UV rays is one of the best things you can do. Many people wear sunglasses to block out the brightness of a sunny day, but without proper UV protection, they're missing out on the health-related benefits that can spare their eyes from damage.
Many sunglasses do, in fact, feature UV protection, but it's difficult to understand how much, or whether said protection is efficient enough. Before you shop for your next pair of sunglasses, arm yourself with some handy knowledge about UV ratings, and what to look for when making your final purchase.
HOW DO UV RAYS DAMAGE EYES?
We don't often think about the harmful effects of UV rays on our eyes, but the risks are real. The sun emits some powerful UV rays that can damage the cornea, as well as lead to macular degeneration, premature aging lines, and other complications. These include cataracts, eyelid skin cancer, snow blindness, cancer of the eye membrane, over-sensitivity to light, increased blinking and cornea conjunctiva.  
The right pair of UV protected sunglasses can help stave off these risks while protecting your eyesight at the same time. Plus, they're handy for keeping safe while driving on the road, especially if the sun is facing your general direction.
WHAT MAKES A GOOD PAIR OF SUNGLASSES?
Aside from choosing that perfect style of frames that compliment your face and make you look cool while you're out and about, a good pair of sunglasses should abide by some basic rules when it comes to UV protection.
First, lenses should meet an ANSI Z80.3 blocking standard, which is laid out by the American National Standards Institute. These lenses block 100% of UVA and UVB rays - long-wave and short-wave rays, respectively. They should also sport UV 400 protection, which can block out very small UV rays that might otherwise penetrate the lens. 
Aviator fans can rejoice, as well. Those sunglasses cover more of the area around the eye, which can prevent some of the problems we touched upon before. For those who like sleeker and thinner frames, try to find ones that protect the eye itself, and prevent sun from beating down from directly above your head.
And finally, don't mistake polarized lenses for UV resistant lenses. While many polarized lenses do offer UV protection, many merely reduce the amount of glare coming through, but will not block UV rays from hitting your eye.
DIFFERENT TYPES OF LENSES
Not all UV lenses are alike, and many come in different styles and finishes designed for different purposes. Always check to make sure that the lenses in question offer UV protection, as some brands do not.
Photochromic lenses are ingenious in the fact that they auto-darken when exposed to bright sunlight. Many people choose these lenses as a means to pull double-duty on one pair of glasses. This prevents the need for a separate purchase based on a particular eyeglass prescription. They even come in bifocal format for those who prefer a bit of versatility. 
Polycarbonate lenses are designed to withstand damage from heavy impacts, which is why many are used in certain industries where eye protection is a must-have. They also negate the need to replace sunglasses that would otherwise become easily damaged over time due to exposure to impact or other environmental factors.
Mirror lenses are coated with a reflective finish that simulates a mirror-type effect. Besides being subjectively more interesting and stylish, mirror lenses can also help ratchet down the intensity of surrounding light. 
CONCLUSION
Understanding UV protection when it comes to sunglasses is the first step in choosing the right pair. It's not always an easy concept to grasp, but by following the tips and information above, you now know precisely what to look for. 
If you're in need of a new pair of sunglasses, Ocuwear has plenty of amazing and stylish frames to choose from. Our lenses also offer the highest-rated UV protection around, so you can shop confidently and comfortably knowing that your next pair of sunglasses will protect your eyes, while keeping the harsh sunlight from blinding your day away. Contact us today if you have any questions, and we'll be glad to help!